Basic info
Writer: Jeff Burton, Dan Collins
Artists: Colin Work, Sharon Gauthier, Donovan Yacuik (Cover Colourist)
Letterer: Jeff Burton, Sharon Gauthier
Editor: Martin Boruta Published by Burton 7 Productions
Characters Appearing
Description
The Adventures of Auroraman #2 features the superpower of Saskatchewan at a hockey game for the ceremonial puck drop when his cosmic staff is stolen by the villainous Slapshot! Jeff… You're playing right into the Canadian comic stereotype here. But the great thing about this issue is that it was made to honour the people in Humbolt's Emergency Services. Hockey Night in Humbolt is followed by an episode of Lil Auroraman and Friends at Camp Northern Lights.
Published and launched at a Humbolt Broncos hockey game before the tragic bus accident the team was involved in. Artist Colin Work sold some original art pages for $200 to Pop Culture Canada and donated the proceeds to the fund for victims of the crash.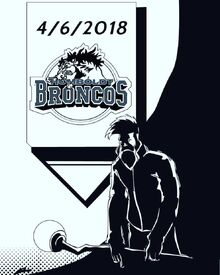 Reviews
Josh Rose; Rogues Portal
Dena; Splashes & Speech Bubbles
Printing Information
First Print: ??? Copies Printed, Officially Released January 26 2018
Community content is available under
CC-BY-SA
unless otherwise noted.