Basic info
Written and drawn by A. Shay Hahn
Comic Book, 32 pages, Colour
Description
Shay's Beaver Damn is set in the rugged wilderness of 1820's Canada where the fur trapper was the epitome of the adventurer. The first book featured three concurrent plot elements and these threads continue to intertwine in Issue #2. Baba Yaga from Slavic myth appears to be involved as a mysterious, and possibly mythical, parasite infects the wilderness creatures turning them into rabid killers. But in Issue 2 some of the fur trappers become infected and hunger for blood. Watching the parasitic tendrils reach out to consume the mind of the upcoming host is an image you won't soon forget.[1]
Reviews
"His style is very unique and a treat to take in."
-Martin Boruta
First Comics News
"you need to go get it"
-Josh Rose
Rogue's Portal
Printing Information
First Print: ??? Copies Printed, Officially Released March 16 2018
Variant Cover Kingston Comic Con by Kundo Krunch, March 31 2018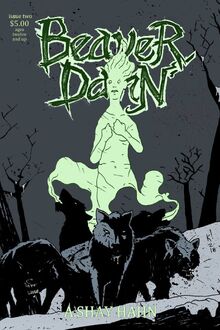 Community content is available under
CC-BY-SA
unless otherwise noted.