Basic info
Written and drawn by Rachel Kahn
Softcover, 144 pages
The complete collection from the webcomic By Crom!
Funded on Kickstarter
Description
By Crom! is an autobiographical comic by Rachel Kahn, featuring life advice from her favourite fictional Barbarian.
Growing out of a love of swords, sorcery and sandaled barbarians as well as a lifelong struggle with anxiety and depression, By Crom! is a tribute not just to Robert E. Howard's hero, but to everyone who could use a brave, practical and stoic inner voice to guide them through life's rough spots.
In By Crom!, the barbarian adviser comes along for dog walks, doctor's visits, school days and self-pity days, armed with his sword and his anachronistic perspective on modern life and modern problems.
Other Editions
By Crom! was initially printed in two small-run volumes, both of which are now sold out in print.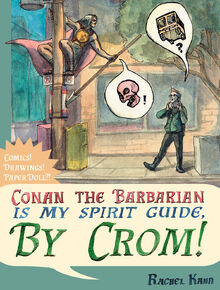 The Collected By Crom! is out of print. It presented all the black and white comics, as well as a paper doll, five behind the scenes pinups, two fan pinups (by cartoonists Kat Verhoeven and Adam Gorham), an eight-page longform comic and an eloquent foreword by Diana Poulsen, it's got a lot of barbarian-themed advice. It was printed in July 2013, in Ontario, Canada, and reprinted in April 2014 in Quebec, Canada.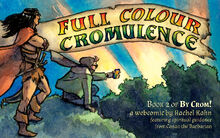 Full Colour Cromulence is also out of print. It presented all the colour comics, nine comics featuring guest spirit guides from Gillian Blekkenhorst, Trevor Henderson, Matt Rapati, Kris Sayer, Jen Schollen, Matt Smith, Kat Verhoeven, Mary Verhoeven, and Jenn Woodall; another paper doll, and an eloquent foreword by the talented Natalie Walschots. It was printed in April 2014, in Quebec, Canada.
Printing Information
First Printing ??? Copies, Published on October 2016
Community content is available under
CC-BY-SA
unless otherwise noted.