The Sandman Will Keep You Awake - The Loop
Play Sound
Basic info
Written by Nevin Arnold
Art by Nevin Arnold
Cover by Nevin Arnold
Black & White
Published by: Hangman Comics
Characters Appearing
Calavera, The Necromaster
Description
Calavera, a fun loving 80's rocker chick, falls to her death in 1989 only to instantaneously awaken in the year 2012. Now essentially a super powered zombie, deteriorating day by day, and sharing her body  with a mysterious entity, this most unlikely heroine may be our last hope as dark forces plot to destroy civilization as we know it!
"a book that is as much fun to read as it is to view" - The Read Pile
"Part Tank Girl and Part Vampirella the series is a campy good read with excellent artwork to boot" "9/10"- RWG
"a campy zombie-rocker rag that fuses good laughs with a deceptively simple but remarkably wicked and dense plot that keeps the pages turning" - Geek Syndicate
" Four out of Five Stars " - Jazma Online
Printing Information
Originally published in 2013 by Vancouver Island publisher, Hangman Comics.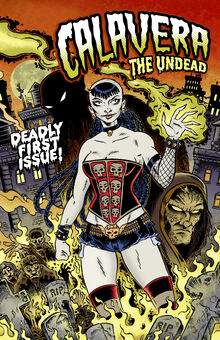 Re-released full colour in 2015 by American publisher "Insane Comics".