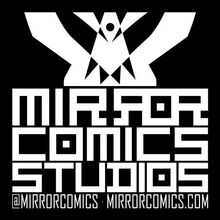 [NOTE this page encompasses both Mirror Comics (2010-2015) and Mirror Comics Studios (2015+) which are separate entities] 
Mirror Comics Studios is a Canadian comic book and graphic novel making project centered around Ottawa based principal Dominic Bercier, writer-artist-creator of Treadwell, Ghost King [A Book of Changes] and the 24 Hour graphic novella Like Never Before & Like Never Again. Bercier is also artist-collaborator on The Bird Caller, Mission Arizona and Hold My Hand [A Father and Son Book], the pre-production comic for the Sony Pictures film Defendor and the prequel comic to the film Eddie [The Sleepwalking Cannibal]. 
After art school, Bercier worked as an illustrator-designer and developed comics and graphic novels in his free time. His first published professional solo work was Ghost King [A Book of Changes] through his own imprint, Mirror Comics, where he was president and publisher from 2010 to 2015. His last book at Mirror was Treadwell, which garnered a nomination in the Aurora Awards Best Graphic Novel category. 
Mirror Comics the publisher was shut down in March 2015 in order to allow Bercier the time to develop a space opera he originally created as a 12 year old. Mirror Comics Studios, founded by Bercier in 2015, gives him the framework to do just that. 
Landing somewhere between artistic indie comics and the superhero mainstream, Dominic Bercier's works are recognised for their detail, depth and richness, his stories celebrating an ability to share complex ideas in a simple manner, often tipping his hat to shamanism and the unconscious.
All items (7)