Overview
Davis Dewsbury is a comic creator and writer based out of Timmins, Ontario Canada.
Official Websites
Origin Story
"I've only just begun".
Characters Created
Auric Of The Great White North [Co-Creator]
Desbois (Rolly Bonami) [Co-Creator]
Kinzie Norlan [Co-Creator]
Janks Fletcher [Co-Creator]
Silverhorn [Co-Creator]
The Occultist [Co-Creator]
Hellsion [Co-Creator]
Comic Book Bibliography
Hammer Comics Presents #4 (Feb. 2013) - Four Page Black & White E.H.JOES intro story
Norlan: Sorceress Of Light - One-Shot (2018 Northern Ontario Expo Exclusive)
Publishers worked with:
Chapterhouse [Story Solicited but Unpublished]
Awards & Recognition
Winner of the 2017 Canadian Indie Comic Book Wiki "Best Comic" Award for Auric of the Great White North Issue 3.
Runner-up of the 2017 Canadian Indie Comic Book Wiki "Favourite Creator 2017".
Image Gallery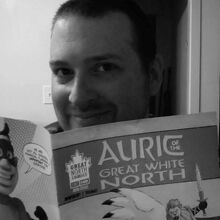 Community content is available under
CC-BY-SA
unless otherwise noted.