Basic info
Written by Larry Higgins
Art by Andre Boulard
Cover by RB White
34 pages Black and White
Funded on Kickstarter
Buy print copies online here
Characters Appearing
Description
Nyobi returns with the 3rd action-packed issue to the already successful independent series. We follow Nyobi straight from the events of issues 1 and 2!!! With Nyobi's ever growing problems, she just seeks a little fun and relaxation. Unfortunately for her, trouble just seems to land on her lap.
23 year-old, Japanese-American Nyobi Lee currently resides in Port Hope with an apartment located in Tokyo. Before developing her powers, Nyobi was performing in an all girl J-pop group, The Geisha Dolls. A group which was quickly gaining popularity. At age 16 during a meet and greet at The Mega Plex mall in Tokyo, Nyobi's powers manifested while being mobbed by a large group of fans. This was the moment she realized her life would change forever as a ring of light flashed in front of everyone's eyes and she was gone. She appeared in back of the building dazed and confused. The media ran nuts with the story and everyone had their theories as to what happened. ICON Entertainment tried to explain it as a special effect, a stunt. However, a week later Nyobi appeared on MY-Tube and exposed herself to the world.............
As of late, she has also just learned that her powers are slowly killing her with each use. We now see how Nyobi struggles with the busy life of a pop-star/hero, but also how she plans to manage the use of her abilities and when to use them.
Printing Information
Cover A First Print: ?? Copies Printed, Officially Released April 2016
Cover B: ?? Copies Printed, Officially Released April 2016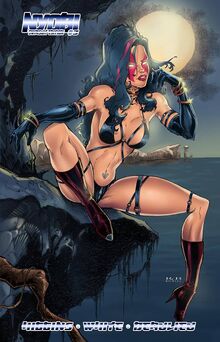 Community content is available under
CC-BY-SA
unless otherwise noted.