Basic info
Written and drawn by Benjamin Rivers
Softcover, 164 Pages Black & White
Originally published in single comics
Nominated for the 2010 Gene Day Award at The Joe Shuster Awards
Website ~ Facebook ~ Comixology
Description
Dana is a woman who doesn't deal well with confrontation. She likes her job, her friends and the cozy comfort of her neighbourhood - Toronto's own Queen Street West. But when the world forces her to stand up, will she be able to handle it? Snow was nominated for a Joe Shuster Award and received a Xeric Foundation grant for its production. It is now also a feature film.
Printing Information
First Print ??? Copies 2011
Second Print, Distributed through Diamond 2014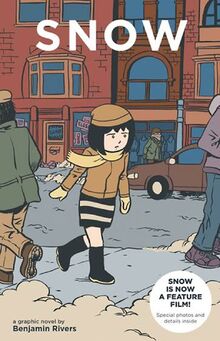 Community content is available under
CC-BY-SA
unless otherwise noted.