Basic info
Writers: Gary Boyarksi, Donovan Yaciuk, James Zintel
Artists: James Zintel, Justin Shauf
Colourist: Donovan Yaciuk
Letterer: Andrew Thomas
Editor: Jeff Burton
28 pages Colour
First cross-over featuring all of the Canadian Comic Book Alliance characters
Buy print copy online ~ Facebook ~ Twitter
Published by: Minijeff Productions and the CCBA
Characters Appearing
Spacesquatch
Kaptain Polska
Blackthorne
Grum and Zill from Where is Zog?
Axeman from Arkade
Jason of New York
Description
Breaking the world record for largest collection of independent Canadian Super-Heroes teaming up in a single issue!
The ancient demonic Proto-Master Psykorr has taken physical form, intent on destroying all of reality as we know it! From a secret base in Canada, the bravest and most heroic individuals of all time prepare to launch their desperate, last ditch attempt to save all of existence, and it all rests on the shoulders on Humboldt's own..... AURORAMAN!
Reviews
"This is one heck of a fun ride" Martin Boruta - First Comics News
"a love letter to comic events of the 80's" Josh Rose - Rogue's Portal
"simply dive-in and enjoy" Dena - splashes and speechbubbles
Printing Information
First Print: 120 Copies Printed, Officially Released April 2018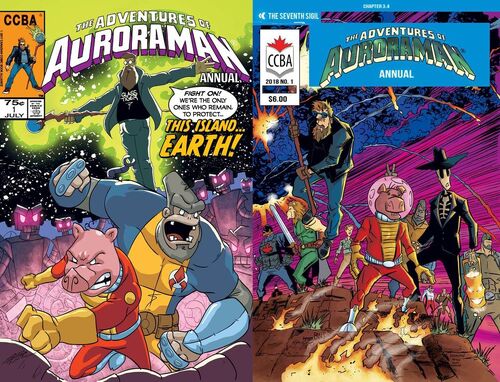 Community content is available under
CC-BY-SA
unless otherwise noted.